The first thing a DOT auditor wants to see is that you have a system in place to keep you in compliance with the DOT regulations.
CSI works with a wide variety of clients on a job by job basis. Whether hired to perform a specific safety, environmental or DOT training class, work on updating a specific program or policy, updating a permit application or negotiating with regulators for favorable conditions, CSI professionals stand ready to assist its clients with a wide variety of services.
DOT Compliance Review
If you have been scheduled for a compliance review, the DOT probably suspects you of poor safety practices. Don't give them a reason to issue you a fine or even worse, issue an out of service order. Make sure you are prepared for the DOT visit. We can help, find out how.
DOT Services:
Audits
Training
Written Programs
Audit Preparation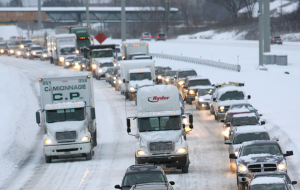 FMCSR Rules

Inspection and Maintenance
Logging/Houses of Service

Hazardous Materials Shipping

Winter/Mountain Safe Driving
Hazardous materials training is required for all "hazmat employees" under the U.S. DOT hazardous materials regulations (49 CFR Part 172, Subpart H).  Hazmat training is required within 90 days for new employees. Training must be repeated every three years and periodically as rules change, penalties for non-compliance are now up to $75,000 per day, per violations.
AUDITS, REVIEWS & WRITTEN PLANS
You can depend on CSI to help with the compliance of DOT Rules and Regulations.
Our mission is to provide our clients with customized, cost effective and profit maximizing compliance programs that promotes a safer workplace and helps to reduce or eliminate the threat of regulatory and civil liabilities.
Compliance Program Inspection

Driver Qualification Files Review

DVIR and Vehicle Inspections Review
REQUEST A FREE CONSULATATION
Have you ever felt like you were drowning in a sea of governmental regulations? Don't worry, you're not alone! Request a free consultation with us today.